The other drivers wouldn't have noticed anything unusual as the two sleek limousines with German license plates joined the traffic on France's Autoroute 1.
But what they were witnessing — on that sunny, fall day in 1994 — was something many of them would have dismissed as just plain crazy.
It had taken a few phone calls from the German car lobby to get the French authorities to give the go-ahead. But here they were: two gray Mercedes 500 SELs, accelerating up to 130 kilometers per hour, changing lanes and reacting to other cars — autonomously, with an onboard computer system controlling the steering wheel, the gas pedal and the brakes.
Decades before Google, Tesla and Uber got into the self-driving car business, a team of German engineers led by a scientist named Ernst Dickmanns had developed a car that could navigate French commuter traffic on its own.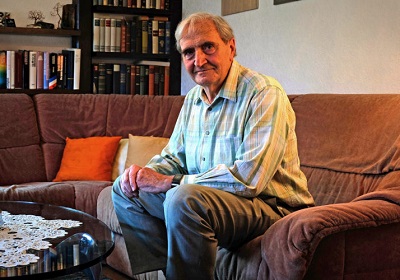 The story of Dickmann's invention, and how it came to be all but forgotten, is a neat illustration how technology sometimes progresses: not in small steady steps, but in booms and busts, in unlikely advances and inevitable retreats —"one step forward and three steps back," as one AI researcher put it.
It's also a warning of sorts, about the expectations we place on artificial intelligence and the limits of some of the data-driven approaches being used today.
"I've stopped giving general advice to other researchers," said Dickmanns, now 82 years old. "Only this much: One should never completely lose sight of approaches that were once very successful."
From the skies to the street
Before becoming the man "who actually invented self-driving cars", as Berkeley computer scientist Jitendra Malik put it, Dickmanns spent the first decade of his professional life analyzing the trajectories space ships take when they reenter the Earth's atmosphere.
Trained as an aerospace engineer, he quickly rose through the ranks of West Germany's ambitious aerospace community so that in 1975, still under 40, he secured a position at a new research university of Germany's armed forces.
By this point, he had already started mulling what would soon become his life mission: teaching vehicles how to see. The place to start, Dickmanns became increasingly convinced, was not spaceships but cars. Within a few years, he had bought a Mercedes van, installed it with computers, cameras and sensors, and began running tests on the university premises in 1986.
"The colleagues at the university said, well, he's an oddball, but he's got a track record [of achievements in aerospace technology,] so let's just let him do it," Dickmanns said during an interview at his family house, located steps from an onion-domed church in Hofolding, a small town outside of Munich.
In 1986, Dickmanns' van became the first vehicle to drive autonomously — on the skidpan at his university. The next year, he sent it down an empty section of a yet-to-be-opened Bavarian autobahn at speeds approaching 90 kilometers per hour. Soon afterward, Dickmanns was approached by the German carmaker Daimler. Together, they secured funding from a massive pan-European project, and in the early 1990s, the company came up with an idea that first seemed "absurd" to Dickmanns.
"Can't you equip one of our large passenger cars for the final demonstration of the project in Paris in October [of 1994], and then drive on the three-lane motorway in public traffic?" he remembered officials asking.
He had to take a deep breath, "but then I told them that with my team, and the methods we're using, I think we're capable of doing that."
Read the source article at Politico.